So I've sort of been attempting a photo-a-day project for my 28th year of life, as documented through Facebook.  The reality ends up being 2-3/week, which is still more than I would have done.
But I thought I would share yesterday's (blurry iphone) photo w/you…specifically, I was thinking Beth might want to see…
Look familiar?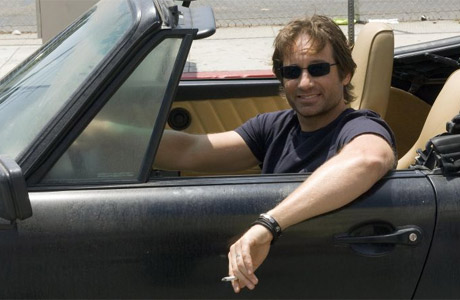 Yep, Californication production is gearing up again by work (which means the parking situation kinda sucks).  And there are actually 2 black Porsche convertibles, the 2nd is hidden behind the first.  They are pretty cars!
  And you can't tell from the photo, but the white parking spot designation on the curb reads "D. Duchovny."  No sign of the man himself yet…filming hasn't actually begun, they're still in pre-production from what I can tell.